Technology Recruiting Services and Consulting
We understand that finding the right talent for your technology needs can be a challenge. That's where we come in. We have a team of experienced recruiters who specialize in identifying and screening top-quality candidates for a variety of technology roles, including software developers, cybersecurity experts, network engineers, and more.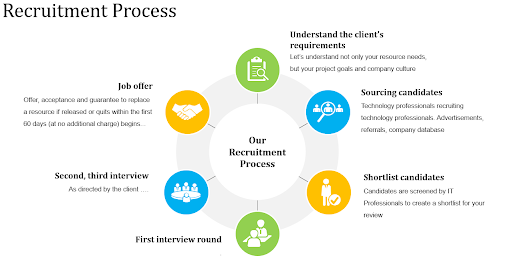 Here are some of the benefits of our technology staffing services:
Access to top-quality talent: Our recruiting process is designed to identify and attract the best technology professionals in the industry. We thoroughly screen our candidates to ensure that they have the skills and experience needed to succeed in your organization.
Increased flexibility: We offer flexible staffing models to meet your specific needs, whether you need to hire for a short-term project or a long-term position. We can also provide temporary staffing to help you manage fluctuations in demand.
Cost-effective solutions: Our technology staffing services can help you save time and money by eliminating the need to spend resources on recruiting, screening, and onboarding new hires.
Reduced risk: We carefully screen our candidates to ensure that they have the right skills and experience for the job. We also provide comprehensive background checks to minimize the risk of hiring the wrong person.
We understand that every business has unique technology staffing needs, and we can work with you to develop a customized staffing solution that meets your specific requirements. We offer flexible pricing and service models to ensure that you get the staffing services you need at a price that works for your budget.
If you require further information please contact us.
Why choose us
We work on ourselves. Nothing stops us.
We keep our word. Always and whatever the cost.
We play together as a team. One for all and all for one.
Changes are opportunities, not obstacles.
Trust and loyalty form the basis of a solid relationship.
We create an environment based on the people.